After the success of the Cantonese Teaching Workshop at the Second Vancouver Hong Kong Fair, the UBC Cantonese Language Program utilized continued interest in the dialogue by hosting two workshops for community teachers on July 15 and September 30, 2023.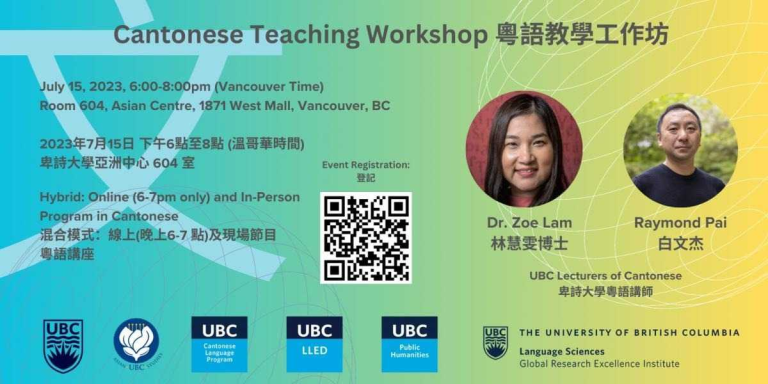 Although Cantonese is one of the most spoken non-official languages in Metro Vancouver according to the recent census, Teaching Cantonese as an Additional Language remains a relatively new field. In North America it is not uncommon that Cantonese teachers work alone in their institution or community, learning how to teach by trial and error. Responding to the demand for a platform to share resources and knowledge, UBC Cantonese Language Program hosted two workshops in a hybrid format, so that participants from all over the world can join the conversation.
In the workshop held on July 15, 2023, Cantonese lecturer Raymond Pai shared his expertise on language acquisition theories and discussed the current status of Cantonese language education in relation to the linguistic landscape in Canada. Next, Dr. Zoe Lam highlighted the importance of being able to explain rules in Cantonese that seemed intuitive to native speakers. She also introduced academic resources to community teachers who had no prior training of applied linguistics. The workshop was concluded with an informal mingling session, where participants shared their visions and dreams.
In the second workshop on September 30, 2023, guest speaker, Dr. Asma Afreen, gave an inspiring presentation on the challenges of running a virtual Bangla school during the pandemic. Although Bangla and Cantonese are different languages, teachers of these languages shared strikingly similar experiences, in that both had to develop creative strategies to teach a non-Latin writing script to children. In addition, both Bangla-speaking and Cantonese-speaking parents struggle to maintain their heritage language in their household. Dr. Afreen's insights reminded the Cantonese teaching community that no one is an island, and one way to think outside the box is to learn from others.
Through these workshops, UBC Cantonese Language Program wishes to build a community of Cantonese teachers who feel supported professionally and emotionally. The program looks forward to more thought-provoking conversations in their next series of teaching workshops.