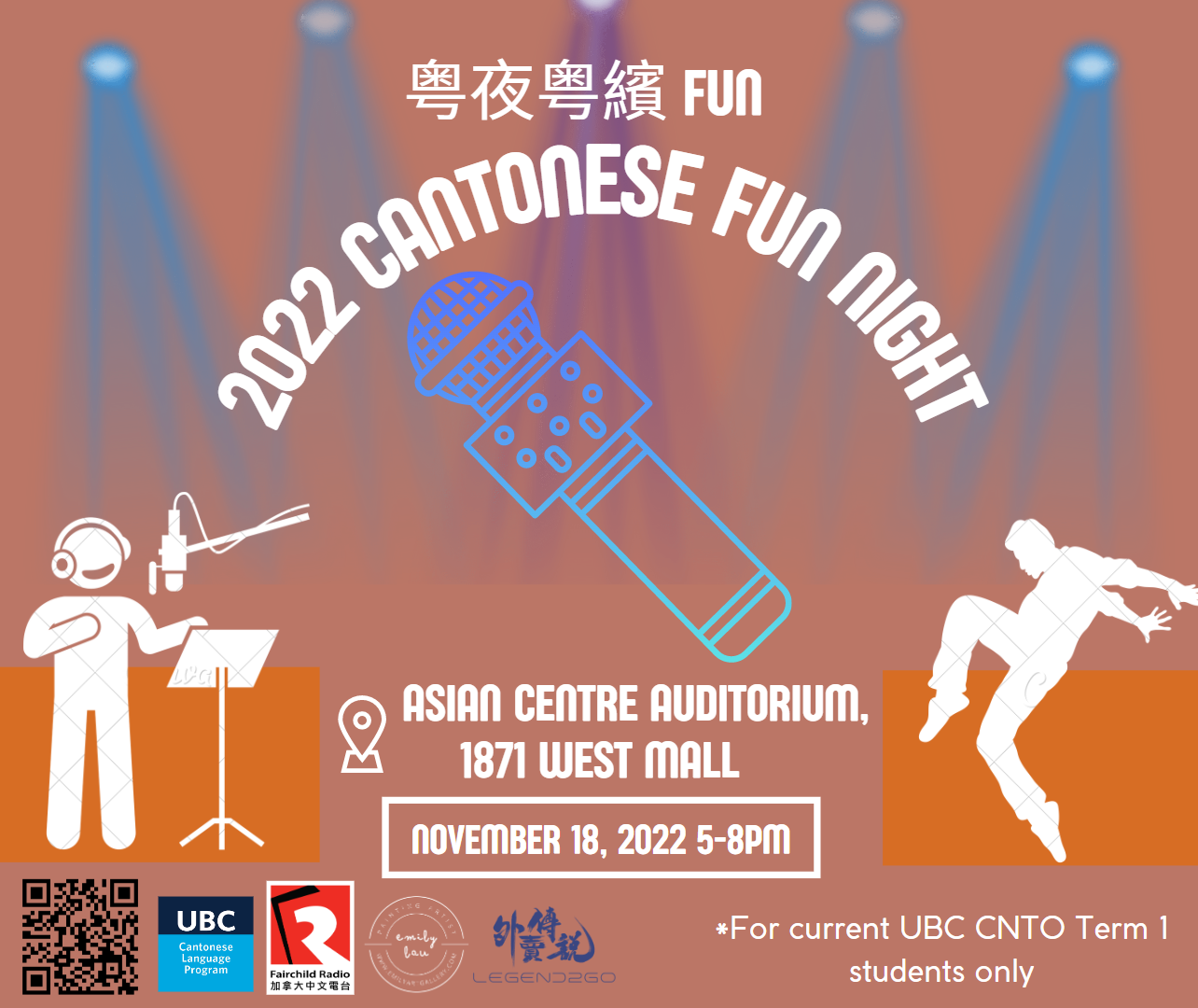 Poster of 2022 Cantonese Fun Night (credit: Bevery Yuen)
On November 18, 2022, after a two-year hiatus, the Third Annual Cantonese Fun Night was held for the first time in person since the pandemic. Hosted by the Cantonese Language Program, the long-awaited event was attended by more than 90 students and guests, who were eager to practice Cantonese in an immersive and interactive Cantonese-speaking environment.
This year's event format was different from its previous iterations in 2018 (iron chef) and 2019 (movie night). For this year, students were invited to showcase their talents in music, creative dubbing, martial arts, and dancing. Performances of singing and dubbing were evaluated by an adjudicating panel seated by the following distinguished guests and colleagues:
| | | |
| --- | --- | --- |
| Guest | Occupation(s) | Affiliation |
| Miss Mandy Chan | Senior Producer & Program Host | Fairchild Radio |
| Mr. Sam Chen | Assistant Producer & Program Host | Fairchild Radio |
| Dr. Benjamin Cheung | Lecturer | Department of Psychology |
| Mr. Brian Chiu | Assistant Producer & Program Host | Fairchild Radio |
| Dr. Helena Wu | Assistant Professor | Department of Asian Studies |
Contestants of the singing stream of the competition impressed the adjudicators by their choice of songs and dedication in perfecting Cantonese pronunciation. Despite being young adults, quite a few singers chose to perform Cantonese songs from the 1980s, such as 萬水千山總是情 Love That Transcends Oceans and Mountains (1982) by Lisa Wong, and 風再起時 When the Wind Rises Again (1989) by the legendary Leslie Cheung. This was evident that timeless classics are still well loved by the new generation. In the end, both First Place and Audience Choice were won by Ruby Zhou with her outstanding performance of 小城大事 Small City, Big Matter. Pengyun Ma and Tian Lan got Second Place for their duet of 左右手 Left vs Right Hand. All adjudicators applauded their efforts to enunciate lyrics in a non-native language, which was no easy feat in Cantonese.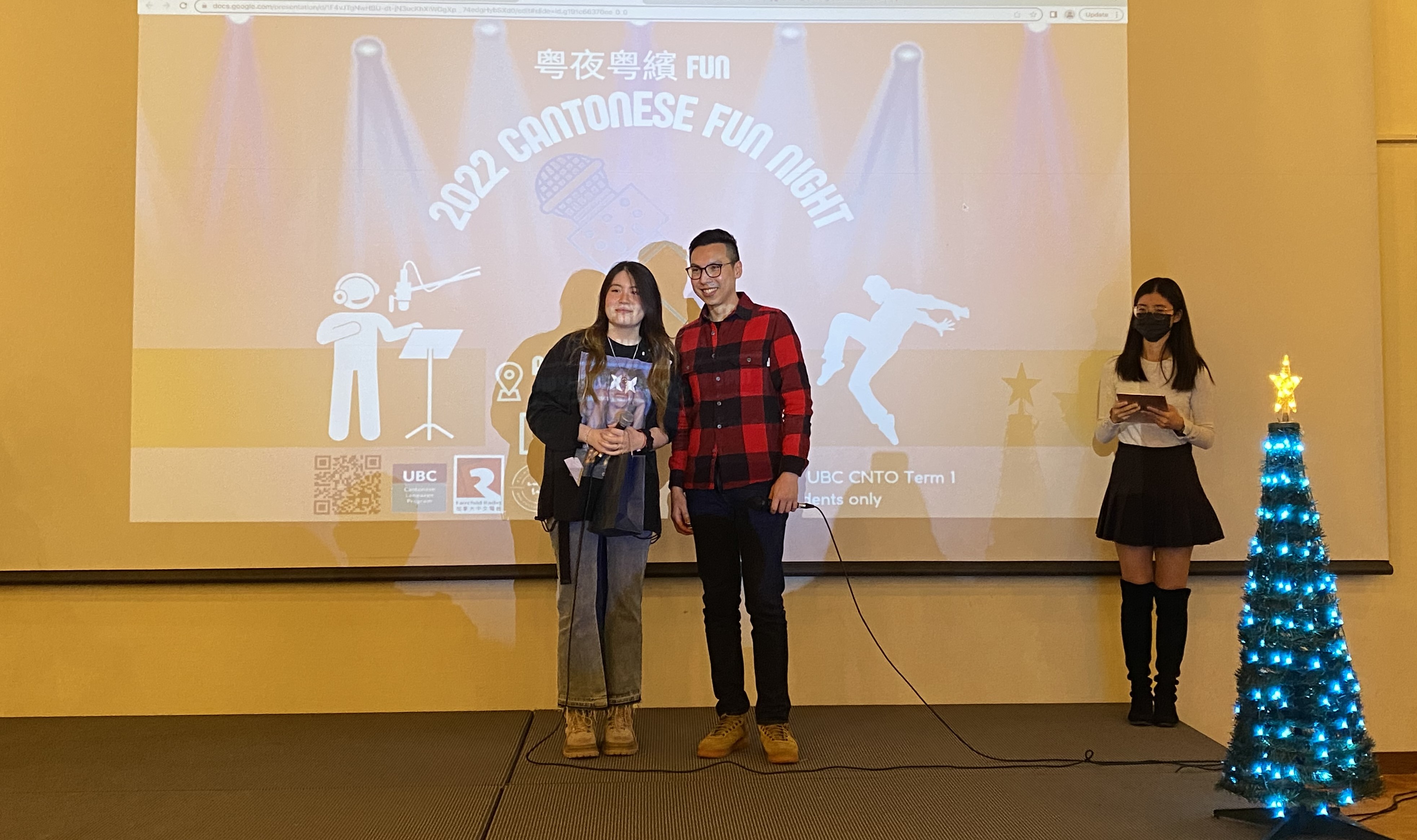 Ruby Zhou (left), student of CNTO 311 Basic Cantonese for Mandarin Speakers, won both First Place and Audience Choice for her impressive singing performance
Prior to the event, two short video excerpts from the classic drama series 金枝慾孽 War and Beauty and movie 國產凌凌漆 From Beijing With Love were distributed to students, who had a few weeks' time to adapt the script and practice their dubbing performance. Performances of the creative dubbing stream were a pleasant surprise for everyone in the audience. During the Fun Night, five pairs of finalists presented their creative adaptation live. After deliberation by adjudicators, Hedy Ng and Joyce Liu won First Place, while Esther Zhou and Dongxiao Du got Second Place. Their thoughtful incorporation of various idioms and slangs gave these classic video clips a new life and were enjoyed by all.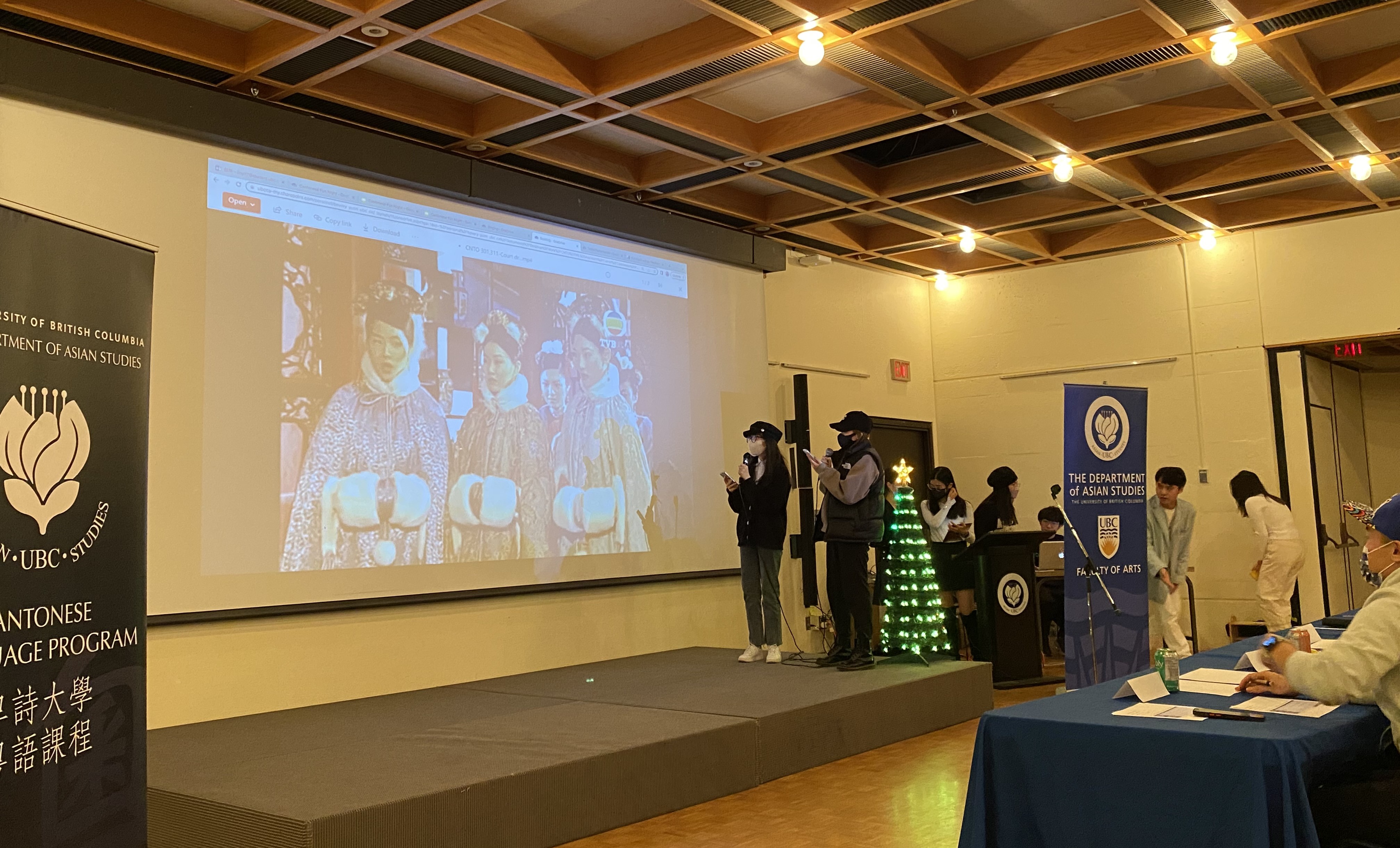 Contestants of the creative dubbing stream performing their adaptation of War and Beauty
The guest performers certainly deserve acknowledgement. We would like to thank the following guests and students who brought the Fun Night to a perfect closing:
Guest

P

erformance

Affiliation

Emily Lau
Painting Demonstration
Illustrator and Artist
Alice Yang & Zoe Liu
Cantonese Poetry
CNTO 401 Students
Luyue Zhang
Wing Chun (Cantonese Martial Art)
CNTO 311 Student
Emily Chang
Modern Dance
CNTO 311 Student
Sophie Yung & Barnabas Cheng
Cantopop

UBC

ClubHK

x SFU Cantonese Singing Contest Awardees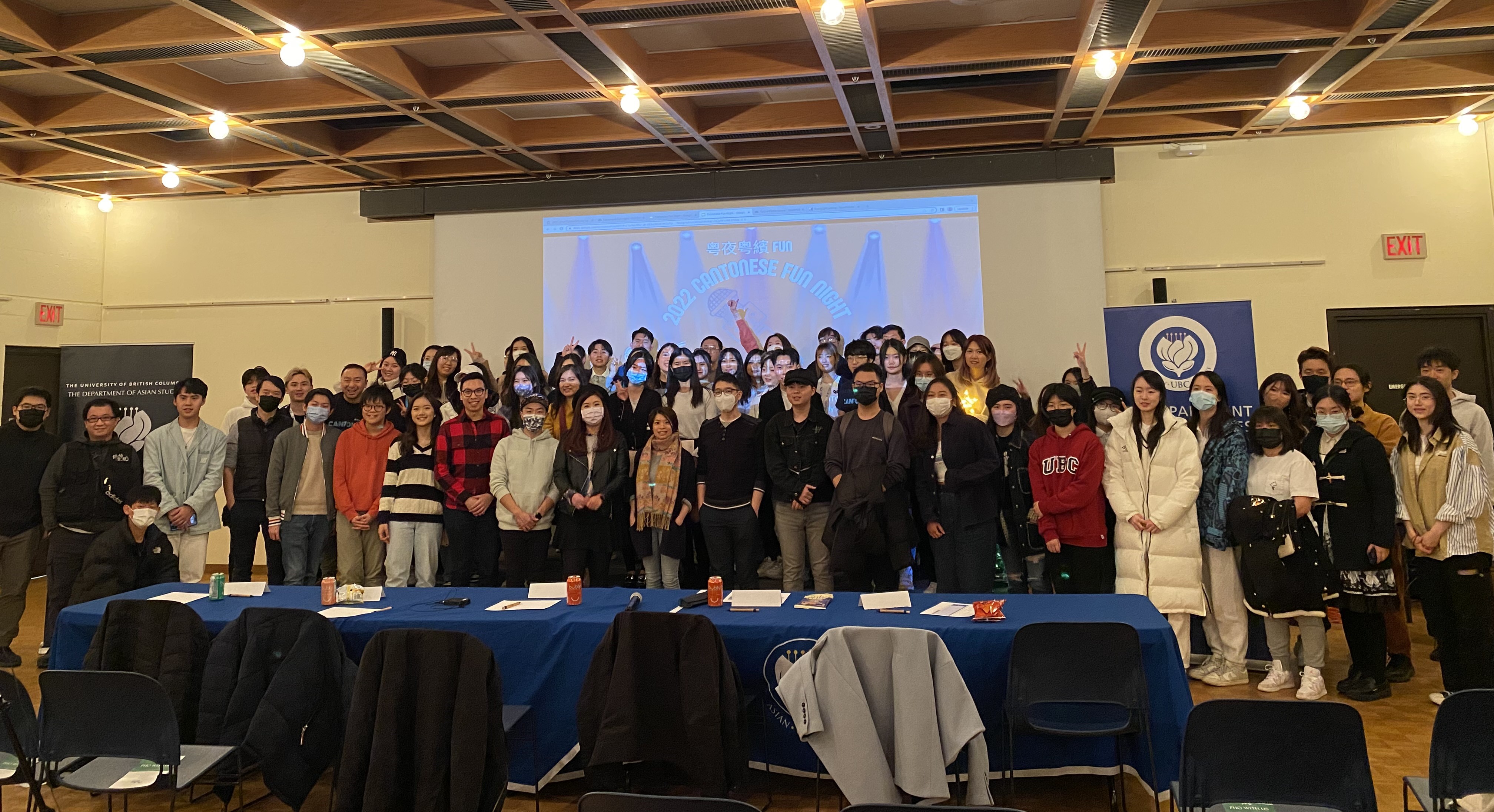 Say 芝士 zi1 si2 (the Cantonese equivalent of "Say cheese!")
The Third Annual Cantonese Fun Night provided a platform for students to share their passion for Cantonese popular culture. It was heartwarming to witness such a great turnout for an extracurricular activity in the busiest time of the school term. We thank Fairchild Radio, Legend2Go, all adjudicators, guests, students and staff for their support.