Publication title: Contesting Islam, Constructing Race and Sexuality: The Inordinate Desire of the West by Sunera Thobani (2020)
Publication year: 2020
Author: Sunera Thobani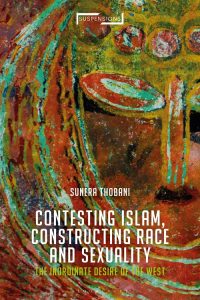 About the book
The current political standoffs of the 'War on Terror' illustrate that the interaction within and between the so-called Western and Middle Eastern civilizations is constantly in flux. A recurring theme however is how Islam and Muslims signify the 'Enemy' in the Western socio-cultural imagination and have become the 'Other' against which the West identifies itself.
In a unique and insightful blend of critical race, feminist and post-colonial theory, Sunera Thobani examines how Islam is foundational to the formation of Western identity at critical points in its history, including the Crusades, the Reconquista and the colonial period. More specifically, she explores how masculinity and femininity are formed at such pivotal junctures and what role feminism has played in the wars against 'radical' Islam. Exposing these symbiotic relationships, Thobani explores how the return of 'religion' is reworking the racial, gender and sexual politics by which Western society defines itself, and more specifically, defines itself against Islam.
Contesting Islam, Constructing Race and Sexuality unpacks conventional as well as unconventional orthodoxies to open up new spaces in how we think about sexual and racial identity in the West and the crucial role that Islam has had and continues to have in its development.