Publication title: Nusantara's Indigenous Knowledge
Publication year: 2020
Author: Co-edited by Thomas Hunter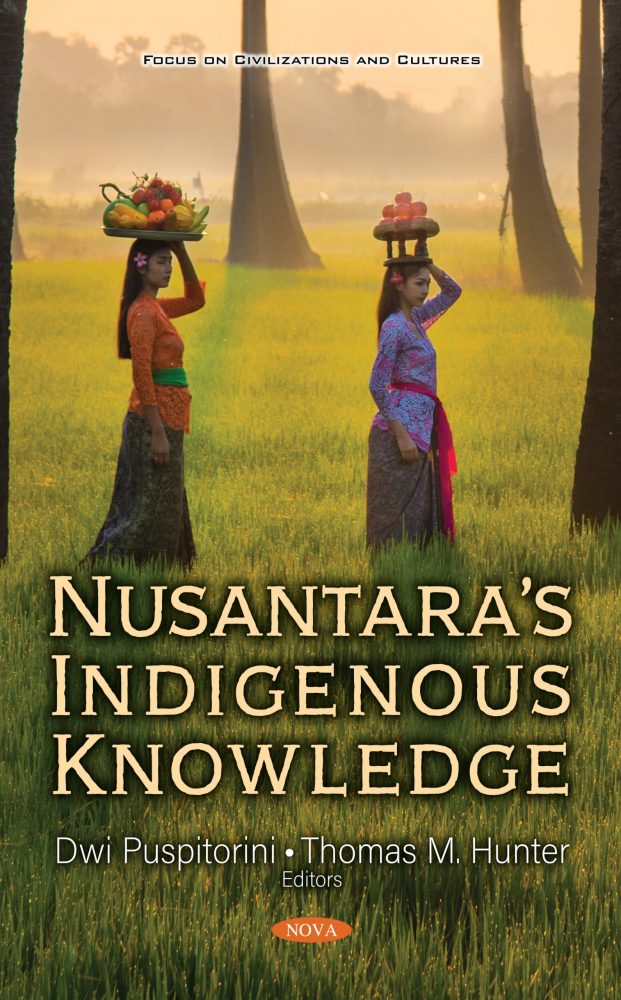 About the book
The ten chapters in this volume represent a breakthrough in the study of the Social Sciences and Humanities crafted by the professors and graduate students of the Faculty of Cultural Studies of the University of Indonesia (Universitas Indonesia). Taken together, these fascinating studies of Indonesian textual, cultural and social traditions represent the beginning of a process of formulating the study of the humanities and social sciences of one of Indonesia's premier universities as "interpretive communities" that can bring contemporary methods and methodologies to bear on the study of contemporary society, the historical legacies of contemporary society and the many forms of local knowledge found are a part of the fabric of Indonesian life. The title of the work "Local Knowledge of Nusantara" invokes both the growing importance of traditional cultural and social patterns in formulating Indonesian identities, and through the term Nusantara the long and colorful cultural history of Indonesia as a geographical area encompassing diverse cultures that yet share common goals and aspirations.
The riches of the local wisdom of Nusantara are revealed in these chapters through the study of inscriptions, manuscripts, storytelling traditions, rituals, musical performances and social patterns that constitute the fabric of life in this great island nation. The geographical and cultural spread of the chapters is quite broad, ranging from a study of the asymmetrical marriage system of the Angkola Batak ethnicity of Sumatra and its role in preserving cultural autonomy to studies of performance practices of the Betawi ethnicity of the Jakarta region of Java and the Banjar ethnicity of southern Kalimantan (Borneo)
Such diversity makes the book an important reference work for students and professionals in the Social Sciences and Humanities, as well as for members of the reading public with an interest in comparing cultural identities and local wisdom from different ethnicities of Nusantara through manuscripts, inscriptions, oral traditions and socio-cultural practices. The volume brings to public attention two important issues related to Nusantara's local wisdom. These are how oral tradition becomes a space for storing collective memories and how Nusantara's local cultures survive and adapt themselves to transformations in contemporary society. Due to the highly diverse nature of the data that forms the basis of these studies, the theories, approaches and methods of research offered in this book are also various. Several important manuscripts and inscriptional records are studied using the approaches of philology and codicology. The study of oral tradition, on the other hand, has been carried out through ethnographic work, specifically through interviews and field observation. The authors of several chapters have put into practice a number of differing theoretical approaches including structuralism and the emerging discipline of memetic studies, while others look to studies of intertextuality, ethnography, and sociology. These methodologies have been applied to the study of textual, performance and social practices represented in the volume in ways that are sure to spark the interest of a wide readership.