The 2022/23 Yip So Man Wat Memorial Lecture
with guest speaker Professor Miranda Brown (University of Michigan)
Lecture: A Traveling Feast: The Story of Chop Suey and the Journey of Chinese Banquet Culture to America
Chances are good that if you encountered chop suey recently, it wasn't at a restaurant with any gourmet aspirations. Fifty years ago, foodies banished the goopy stir-fry from their menus. Since then, chop suey has largely been consigned to the realm of cheap takeout. But chop suey wasn't always the antithesis of fine Chinese. In centuries past, it was a staple of high-end banquets – on both sides of the Pacific. By tracing the journey of chop suey from eighteenth century Yangzhou to San Francisco: I use chop suey to tell a new, transnational story about the origins of Chinese-American cuisine.
Date & Time:
Thursday, March 30, 2023
5:30pm (PDT) Reception with light refreshments
6:30pm-8:30pm (PDT) Lecture
Location:
Marine Drive Ballroom, 2205 Lower Mall, Vancouver
(view map)
Presented in English.
Free & open to the public
---
Events in Conjunction
Research Seminar: Dumpling Therapy: What Happens When the Classicist Actually Steps Out of the Ivory Tower
In recent years, humanities scholars have felt the urgency to take their work to the public. But how easy is it for scholars, especially classicists, to pull it off? This research seminar will focus on my on-going efforts to Dumpling Therapy, which narrates Chinese food history for an American public, while challenging popular ideas about (culinary) authenticity, identity, and heritage. I'll discuss the technical challenges of balancing accessibility with scholarly accuracy, the intricacies of historic recipe reconstruction, and the risks and rewards of non-traditional modes of historical writing.
Date & Time:
Friday, March 31, 2023
4:00pm – 6:00pm (PDT)
Location:
Room 111, Peter A. Allard School, Allard Hall, 1822 E Mall Vancouver
(view map)
Presented in English
Free & open to the public
---
Speaker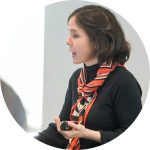 Miranda Brown is Professor of Chinese Studies in the Department of Asian Languages and Cultures who has taught Chinese history at the University of Michigan since 2002. In old age, she has discovered her true passion: Chinese food. She is now writing a book on the history of Chinese food. In her free time, she chronicles her efforts to re-imagine Chinese food with lots of milk in her blog and on Twitter (@Dong_Muda). You can also find her articles about the history of tea, chop suey, and Lunar New Years on Atlas Obscura.
---
About the Yip So Man Wat Memorial Lecture
The Yip So Man Wat Memorial Lectures are made possible by the generous support of Messrs. Alex and Chi Shum Watt in honour of their mother, the late Mrs. Wat, and her passion for Chinese literature and culture.
---
---