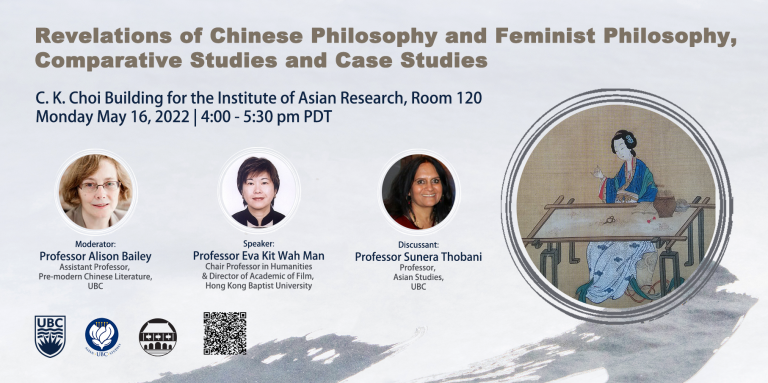 This lecture by Prof. Eva Kit Wah Man will start with personal notes before theoretical discussion, which format confirms her beliefs that the real drive to philosophy and art is better to be concrete, existential, connecting to people, with emotion and they should address to real life issues. This explains her alternative approach in opening this speech with the subject "What Does Comparative Philosophy Mean to a Female Chinese Scholar Like Me?".
Followed by her personal notes, Prof. Man will share her reflections on Confucian living framework and comparative philosophy. Life experience brings a much better understanding in feminist discourses and their conversations with Confucianism, when she contrasted them from the philosophical level to the social and political levels. Comparative philosophy is also sensible for doing philosophy for it is simply a good strategy to consider a wide range of enduring and respected ideas. In this address, she demonstrates her agreement with the above premises from her study approach to the subject, bodies in China, using Chinese philosophy and feminist reflections as frames of reference.
The theoretical discussion will start from some of the conceptual models that feminist scholars propose, which seek to displace Platonic dualism and emancipate concepts of the body from Cartesian mechanistic models or metaphors. Prof. Man explores how the Chinese philosophical ideas offered by Confucians and Daoists may provide an alternative body ontology to the critical practices of feminists. She will then share her research on case studies of female aesthetical representations in classical Chinese works such as The Book of Songs and contemporary body art in China. These representations demonstrate an intertwining relationship among the body, sexuality, aesthetics and gendered roles in their social environments. These case studies are also living illustrations of the connections, dynamics and transformations of the homogenous and the heterogenous China.
The lecture is organized by the Department of Asian Studies, and co-sponsored by UBC Centre for Chinese Research.
Date & Time:
Monday, May 16 | 4:00pm – 5:30pm (PDT)
Location: C. K. Choi Building for the Institute of Asian Research, Room 120, 1855 West Mall, Vancouver
This talk will be presented in English.
Free & open to the public. Registration is required via the form below.
Guest Speaker
Professor Eva Kit Wah Man is currently the Director of Film Academy and Chair Professor in Humanities of Hong Kong Baptist University. She publishes widely in comparative aesthetics, comparative philosophy, woman studies, feminist philosophy, cultural studies, art and cultural criticism. She was a Fulbright scholar conducted research at the University of California, Berkeley, and was named AMUW Endowed Woman Chair Professor of the 100th Anniversary of Marquette University, USA. She was awarded Outstanding Contributions to Public Services by the HKSAR.
Moderator
Professor Alison Bailey is an assistant professor of the Department of Asian Studies, University of British Columbia. She researches and teaches pre-modern Chinese literature. Her research focuses on aspects of violence and emotions in late imperial China, premodern law, and filial revenge.
Discussant
Professor Sunera Thobani is a professor of the Department of Asian Studies, University of British Columbia. Her scholarship is located at the intersection of the Social Sciences and Humanities. She studies and works on critical race, postcolonial, transnational and feminist theory; South Asian women's, gender and sexuality studies; representations of Islam and Muslims in South Asian and Western media; South Asian Diasporic Films; Muslim Women, Islamophobia and the war on terror; intersectionality, social movements and critical social theory; colonialism, indigeneity and racial violence; and globalization, citizenship and migration.
Should you have any questions, please contact the Department of Asian Studies at Asian.Studies@ubc.ca.